Well guys, as a professional blogger you might have come across many SEO tools, keyword research tools, and many more tools so as to improve your website performance.
Today I am going share my personal experience in the blogging filed with respect to the website SEO analysis.
We can find great online SEO tools to perform the SEO check. But all the tools do not deliver equal results. There might be slight variations.
In Spite of many competing SEO tools, I was well familiar with the MOZ, Semrush, and Ahrefs etc.
I was very interested in SEO and hunt regularly on the different SEO tools in the market. Because search engines are the #1 source of traffic for my website properties. So I regularly check with the great tools which help me to improve my SEO efforts for my website.
A few days back I had come across the great SEO checker tool where you can check small websites of 1000 pages for free. I was stumbled on the SEObility, a great tool which I had ever heard before. I then decided to try the free version of the tool as my website pages are below 1000. Of Course, you can go for the premium plans on enjoying 1-month free trial version.
My experiences are based on enjoying the free trial version of this tool but I will also present the premium levels of plans for different users. You can go through them if needy.
At my first glance, the SEObility seems to be the hidden gem for the SEO.
If you are interested then feel free to take your website to the next level. I suggest every reader of this post join this great SEO tool as soon as you finished the reading.
Now let's walk in depth through the SEObility tool.
What is SEOBility?
The SEOBility is one of the great All In One SEO software and tools which gives the snapshot of how your website's SEO is doing in the SERPs
The SEObility tool helps to check the meta titles, rankings of the keywords where you can have a clear picture of your website progress, you will also be notified with the areas to improve in future.
It's not a prerequisite for every website owners, if your clients are ranking higher, in order to double your SEO efforts then the SEObility tool might be perfect for you. You can get best results after analyzing the areas which need to be improved on a large scale.
The main theme of the SEObility tool is to crawl your website and analyze it for the efforts and potential optimization.
Well, there might be situations where even if you had done 100% SEO optimized there will be chances of mistakes or errors. If you are managing multiple websites there may be some blind spots to target, in such cases this tool is right in front of you.
What does this SEOBility tool does?
It helps in finding the errors which lapse your SEO.
It will show you how to fix the errors and optimize them for best results.
You can track the progress periodically to see any human spot mistakes.
If you had done proper SEO, it takes time to really update you with good results.
Here I am going to explain to you about my free trial membership with SEObility. How this tool helps me to find out the SEO errors. I will also come up with the premium packages for you, please check below for the prices and benefits.
Now let's see what do you benefit from the free membership.
SEOBility Free Trial Membership:
Well, in the free version you can monitor only one website. If you are owning the multiple sites you can go with the website of your choice for the SEObility. You can take the premium packages once you understand the SEOBility platform and how the results are varied from the time being.
As SEOBility comes with all SEO analysis and free tools you can crawl up to 1000 pages for a single website. It checks your website completely by crawling all the linked pages. It displays all the errors, problems with on -page SEO, duplicate content and all the problems are stipulated where you can analyze each problem and solve it in a single browser page.
The SEObility free SEO software suite is a package of quick site checkup, where every single website is checked for free.
Crawl upto 1000 pages as a free member:
As a free member, you can crawl up to 1000 pages which can show in the below image.
Competitor Analysis of keywords:
If you want to spy on your Competitors SEO and how they are getting success. If yes then you can blindly use this SEOBility tools to compare the competitor keywords and analyze then from yours. Because most of the tools for analyzing are paid and this is the best tool which offers for free. The best way to know from your competing domains and achieve your target.
SEO Check with the SEOBility tool:
In the SEO check you can look at all the things at one glance such as the page structure, page load times,page quality, tasks of SEO improvements, number of internal and external links placed in your website content, whether all the links are correct or any errors,it also crawls about the meta specifications such as title, meta descriptions, meta tags etc.
It also notifies you about the page structure i.e the heading placements as follows.
By using the seobility tool you can find out every piece of content whether it is placed right or wrong. You can also check with the link structure i.e how many internal and external links, whether the links have the anchor texts or not, anchor texts used more than once, you can easily sort out all kinds of issues in one go itself
SEOBility Keyword Check:
With the SEObility and alsoheck you can check your website for certain keywords and know how they are performing on the SERPS. You can even check with the specific urls in the website for keywords. It shows you the keyword score, HTML optimization for that particular keyword and also specifies the meta attributes etc.
Free Website Ranking Check With SEOBility:
With the help of the SEObility ranking check you can check your website rankings for any of the keywords in Google.You can see your keywords ranking in specific locations and regions.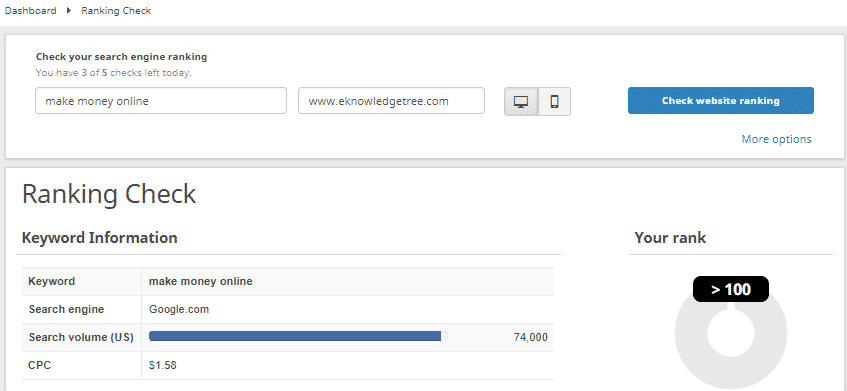 You can easily get through your keyword rankings in the search engine optimization, search volume and CPC rate for that particular keywords.
Free TF-IDF tool by SEOBility:
Yeah, with the help of the TF-IDF tool of seobility you can create perfect content for your website. You can get through the websites which are ranked good with higher optimized content. By identifying the relevant keywords and terms of your competitor and place them in your content to rank better in search engines.
A Few Customized tips for Websites SEO:
All websites are not created equal meaning that one tip may not suit for all websites.
Once you are well familiar on using specific tool and driving the tips can be very generous and can lead to qualitative results. Tbose might help you to boost your website rankings and SEO part. If I goes on explaining there will be a lot more instead you can directly jump in to the website link here and take your website to the next level with SEObility.
SEOBility Pricing:
Below I had mentioned the pricing structure for the free and premium membership. You can simply go through it and pick your desired ones.
My Final thoughts:
As a overall picture came into existence I think the SEOBIlity is the great tool for the starters as you can enjoy the paid versions along with the free membership. Generally most of the SEO driven tools are expensive but the SEObility costs you very low.
My rating for this tool is 4 out of 5 and I justify it as this tool truly deserves it.
 try this fantastic SEO tool.