Do you have the website? are you want to sell digital products on your website? Then here is the solution for you all, which helps you to create your own e-commerce platform to sell your digital products.
Which offers India's emerging C2C payments.
e-commerce platform to sell your digital products using INSTAMOJO
Let's check what are the features they are providing to users. Instamojo delivers instant payments who is doing businesses and individuals all over the India, if you want to collect money all over India you can go for instamojo.
Now you have the question how to create an account? Will it get free or not? it's totally free, you can simple signup here. It also offers some premium features to users. Like increasing withdraw amount from basic 10000 rs to one lakh.
Insta Fee's
Instamojo support around 60 banks in India, you can also send international payments through international cards on a case-by-case basis, Transaction fee for international payments is 3%+Rs 3 excluding service tax. Instamojo charges for every transaction, it will charge 2% instamojo fee and instamojo fixed fee Rs 3 excluding service tax. For example, if you sell 400 Rs product instamojo will transfer 387.35 Rs.
| | |
| --- | --- |
| Price/Amount Customer pays | 400.00 |
| Instamojo %age fee | 2.00% |
| Instamojo Fixed fee | 3 |
| Service Tax (incl. cess) | 1.65 |
| You get | 387.35 |
You can create your own e-commerce platform using instamojo, after registration you need to go to dashboard to create your digital products e-commerce for your website. Instamojo also provide great feature which enables you to create your own payment link for your payments, you can share these links in any social media and increase your sales.
Add your product's
Instamojo offers four types of product categories, which covers different businesses and individuals, let's see four categories .
1. Physical Product
2. Digital Product
3. Event Ticket
4. Others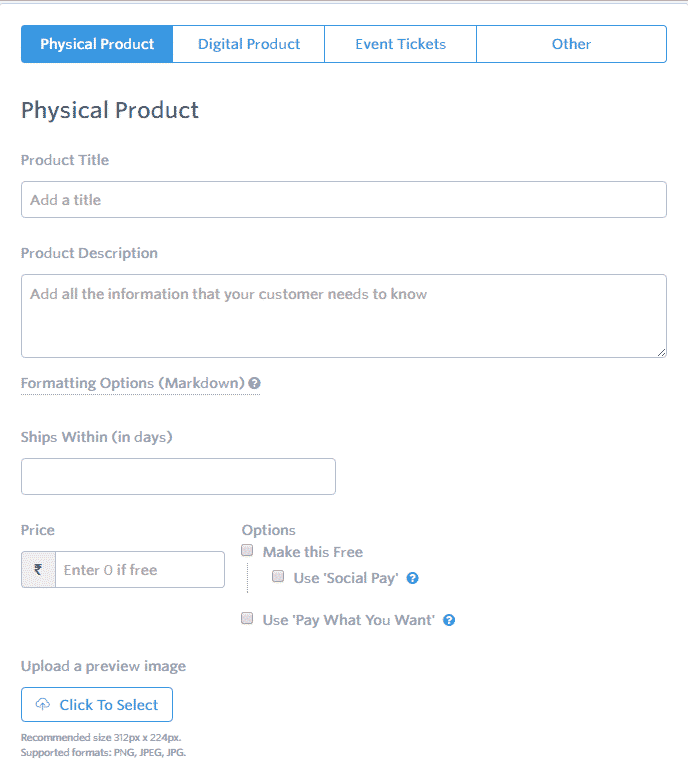 So you have option to select your category, now i selected digital product as my category and filled basic product details and uploaded my digital zip file to instamojo and added cover image to my digital product.
Here you can also find advanced settings to add SEO tags, which is an added advantage for you product to index in google search engine optimization. Which offers more visibility to your users and generates leads to your digital products. Like this you can continue to add your digital products to create your e-commerce platform .once you are done with your products now let's move to your dashboard to embed your digital products to your website.
Instamojo offers two options to integrate your e-commerce platform, one with embed button and other using WordPress e-commerce plugin, if you want to integrate using plugin you need to install woo commerce plugin first and then install instamojo WordPress plugin.
After installation of plugins need to create your client id and client secret keys for your word press setup. For this, you need to go to dashboard and click on API & Plugins link on left side menu. Here you can find create credentials button, please click button to create your client id's and copy paste these details in your WordPress plugin.
Instamojo analytics:
Instamojo offers real-time analytics for their users, instamojo tracks each and every transactions and traffic to your digital products. It also looks into deeper insights and provides user location and Referrer conversion.
The best part in insta analytics is when you share your product links in different mediums, Now in a single glance you can check which medium is working for you and which isn't.
Suppose if you share your insta short link in twitter and facebook and your blog, but your blog got more sales when compared to two social mediums, this is critical information which saves your time and efforts to increase your sales. By using these advanced analytics you can save time and increase your product sales.
Instamojo app store:
Instamojo offers best app store to their users, they added additional features to the payment gateways by simply applying these apps, they added EMI, SMS, personalized social button and remove button branding apps. If you want to use these apps you need to pay some credits monthly, they also offer some free apps like google analytics, invoice generator, request for payment apps for their users.


You can also Read full article of digital products sales using Payhip, Thanks!